Congratulations to Camille!!
Ben: 8-Year Old DWB 16.1H Bay Gelding
Ben is an 8-Year Old 16.1H Dutch Warmblood TB cross gelding. Since he was a 5-year old, Ben has been competing in the A/A's and various adult equitation venues including the Charles Owen's, Ariat and USEF medal classes. He has accumulated a number of ribbons on the A circuit including HITS Saugerties, Old Salem and Garden State. Ben would also be suitable as a children's hunter as he is forgiving and uncomplicated to ride. Ben has been shown over 3'-3" courses, schooled over 3'-9" courses and 4'-6" individual fences. USEF #
4102848.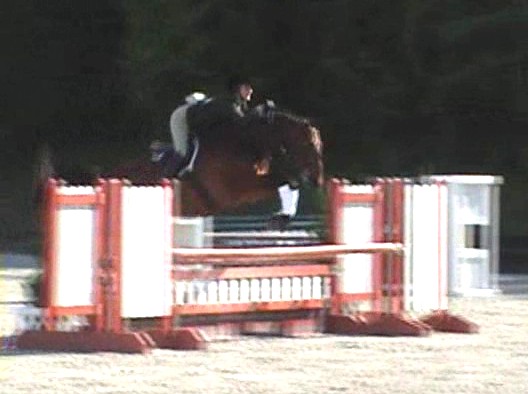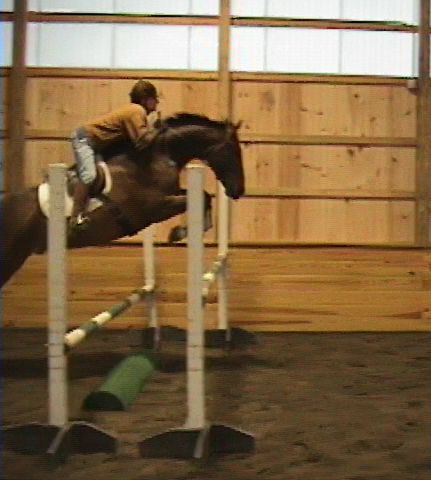 What Type of Job is Ben Suitable for?
Ben is a very versatile horse. While his current job is showing in the 3' hunter and 3' to 3'-3" equitation ring, he is also kind and patient over the lower fences, He is calm enough for longe line lessons and WTC students, even if they lack upper body control and bounce around a bit. Ben is a very uncomplicated horse to ride and he is extremely forgiving and good natured about mistakes. If you bury him, he gets you over the fence and doesn't hold a grudge. If you ask him to leave long, he obliges and carries on as if nothing happened.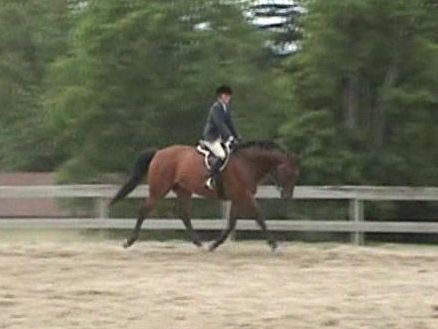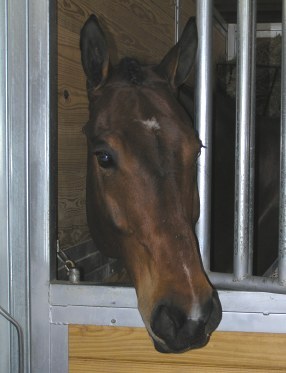 What is Ben's Breeding?
Ben is an unregistered Dutch Warmblood. Ben is by Akrobaat who was nominated to the IHF and IJF in 2004. Akrobaat is by Nimmerdor, the KWPN stallion of the century.
What Else Can You Tell Me About Ben? Ben does not have any vices. He doesn't crib, weave, stall walk, etc. Ben currently receives individual turnout. Prior to moving to his current barn, Ben was turned out with other horses and was quite happy with that arrangement as well. Ben is fine with the farrier and the vet. He trailers well, both alone and with other horses. Other than a light free lunge at home, Ben doesn't require any prep for one day shows. For multi-day shows, Ben does best with a light lunge the first day. Ben is an easy keeper and does not require a special diet. He receives free choice hay and his grain ration is adjusted up or down depending on his workload. Ben goes in plain steel shoes and he has great feet. Ben is extremely friendly. He loves attention, treats and people and he has an easy-going personality. Ben's favorite treat is oatmeal cookies.